Heads Against the Wall: It May Look Silly, But It Could Indicate A Problem
It's known as "pressing;" the strange, yet unquestionably cute behavior of dogs or cats standing with their heads planted face-first against a wall or other object for no apparent reason. Are they putting themselves in timeout? Are they ashamed of something they've done? This behavior could indicate a medical problem and should be checked by your veterinarian.
What It May Mean
Head pressing is typically indicative of damage to the pet's nervous system. What can cause this damage? There are several possibilities.
In addition to poisoning, pressing behavior can also be a symptom of a brain tumor, head trauma, liver shunt, metabolic disorder, infection of the brain or spinal cord, or stroke.
It could also be an indicator of prosencephalon disease. More commonly referred to as the forebrain, the prosencephalon is the forward-most portion of the brain. With this disease, the forebrain and thalamus become damaged and pets may exhibit circling, changes in learned behavior, damaged reflexes, pacing, pressing, seizures and/or vision problems. Dogs and cats of any age or breed can be affected.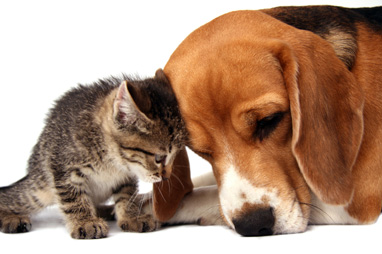 What To Do
A visit to your veterinarian will help get to the bottom of the behavior. Providing your veterinarian with a thorough history of your dog or cat's health, when the head pressing first began and possible incidents that might have preceded it, will help him or her in diagnosing the cause.
Diagnostic tests, such as blood and urine testing, X-rays and a complete physical examination, may determine the cause of the head pressing. Advanced tests, such as MRI or CT scan, may be required if the initial results come back negative.
Not To Be Confused With Normal Behavior
It's normal for healthy pets to rub or butt their heads against objects, animals and people. Known as bunting, this is a form of territorial scent-marking. Pressing, on the other hand, indicates a serious medical condition and is abnormal.
By itself, head pressing may not be dangerous to your pet - the concern lies in what it could be signaling. You know your pet better than anyone. If something seems off, call your veterinarian as soon as possible.